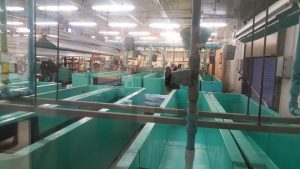 Rumors of a massive fish kill at the Shepherd of the Hills Fish Hatchery surfaced the afternoon of November 16. This morning I went to the hatchery to verify the rumor. As I drove up to the hatchery building I observed people apparently removing fish from the outside raceways closest to the hatchery.
The photo tells the story of what was found when I went inside the hatchery. All the inside raceways that I could observe, which normally contain fry and the smaller trout that will later be released into the outside raceways, were bare.
There were no personnel in the hatchery offices. One person came out of raceway portion of the building. I told him I was there to get information on an alleged 70k fish kill at the hatchery and asked if it was true. He pointed out was not a spokesperson for the hatchery; "there was a spike in Nitrogen;" many fish died, but he did not know the exact number; and that hatchery personnel were outside trying to move fish from the raceways closest to the building. He pointed out that the filters the water encountered as it moved through the hatchery raceways improved the water quality of the water in the raceways farthest from hatchery building itself.
At that time two people came in from the outside and the person I was talking with said that they were the guys to talk with. They did not identify themselves, one of them said that it was a bad time to talk and when I mentioned nitrogen as the cause of the fish kill, one  mentioned "and sulphur," as they turned and walked from the building.
Although the details are skimpy at this point, it's not for lack of trying, and two things are certain:  the normal operations of the Shepherd of the Hills Fish Hatchery has taken a dramatic hit and there has been one huge fish kill at the hatchery.